ONE TO ONE OR SMALL GROUP WORKSHOPS
FOR DOWSING
These courses Take Place Either at
Loggerheads Country Park, Ruthin Road, Loggerheads,
Nr Mold, Denighshire CH7 5LH if it is a small group
but if it is one to one it will be held at my home plus going on site
WATER SURVEYING
7 hour courses start at 9.30am and finishing at 4.30pm.

How to use dowsing tools.

Where you will learn how to find water beneath the ground.

Find out the quality of water and quantity of water beneath the ground.

You will also learn how to distinguish fracture zones and shatter zones, faults and flow aquas which all carry water sources.

You will also be taught how to map dowse for water beneath the ground at Loggerheads Country Park

We will also dowse on site for the underground rivers at Loggerheads.

When you have proven that you can succeed you will be given a certificate confirming your ability at finding water.
There are also the following courses one to one or small groups
MINERAL SURVEYING

Learning how to dowse to find natural gold and minerals by map dowsing and understanding the geology of the rock formations carrying the Minerals. Sometimes field studies take place, which includes dowsing for mines, tunnels and caves.
OIL & GAS SURVEYING
To learn to map dowse to find natural oil & gas including locating oil & gas fields and structures.
EARTH ENERGIES & GEOPATHIC STRESS
There are also courses on geopathic stress and sick buildings, which will cover earth energies, bad energies, radon gas, low level radiation, and low level magnetic radiation natural and manmade and many more forms of energies. This will also involve being shown how to use and change energies to the benefit of mankind, this will also include the transformation of water changing the quality of the water to a higher standard plus any other changes which will be covered.

ONE TO ONE OR SMALL GROUPS
7 HOUR DAY WORKSHOPS

The dates for the one to one or group workshops to be agreed by all parties. Please either email or telephone me on 01352 754052 and if no reply please leave a message and I will get back to you as soon as possible.
STAGE ONE OF LEARNING TO DOWSE
THIS IS A ONE TO ONE DOWSING COURSE BELOW IS WHAT THE FIRST DAY WOULD CONSIST OF:-
INTRODUCTION TO DOWSING AND HISTORY
INTRODUCTION TO DOWSING TOOLS
LEARNING TO USE THE TOOLS OF DOWSING
LEARNING TO MAP DOWSE
LEARNING HOW THE RODS REACT TO WATER
OPTIONAL - SECOND DAY- 7 HOUR WORKSHOP
LEARNING ABOUT:

REACTION LINES FAULTING
FRACTURES INCLUDING PRACTISING ON VARIOUS SITES - THIS WILL INVOLVE TRAVELLING WITHIN THE VICINITY TO VARIOUS SITES FROM THE BASE AT LOGGERHEADS
LEARNING GEOPATHIC STRESS WHICH INCLUDES SICK BUILDINGS
******************************************
THE COST FOR ONE TO ONE TEACHING IS £90 PER PERSON PER DAY
WHICH WILL BE HELD AT MY HOME
PLUS GOING OUT ON SITE TO LOGGERHEADS
TO DOWSE THE UNDERGROUND RIVERS

THE COST FOR SMALL GROUPS WHICH IS FROM A MINIMUM OF FOUR TO MAXIMUM OF TEN PEOPLE WILL BE £45 PER PERSON INCLUDING COST OF HIRE OF THE ROOM
PLEASE ALSO BRING WITH YOU PROTECTIVE CLOTHING & SUITABLE FOOTWEAR
A FRAMED CERTIFICATE WILL BE PROVIDED AT THE END OF YOUR COURSE AT A COST OF £10 PLEASE LET ME KNOW BEFOREHAND IF YOU WISH TO PURCHASE THIS.

There is also a car park charge at Loggerheads of £5 per day payable by yourself.
Also there is a cafe for you to purchase refreshments located at Loggerhead Counrty Park nearby to the teaching room.

GROUP BOOKINGS TEA COFEE AND BISCUITS WILL BE PROVIDED

THIS IS THE FIRST STAGE OF LEARNING TO DOWSE FURTHER ADVANCED DOWSING COURSES UP TO MASTER CLASSES CAN BE GIVEN COSTS WILL BE THE SAME AS ABOVE.
Reasonably priced accommodation is available near the venue at the following places
Booking.com or Laterooms.com
---
| | |
| --- | --- |
| | These are just a couple of certificates that I hold relating to dowsing that I have received over the years. these show you what can be achieved with perseverance |
Peter's Workshops and Teaching Courses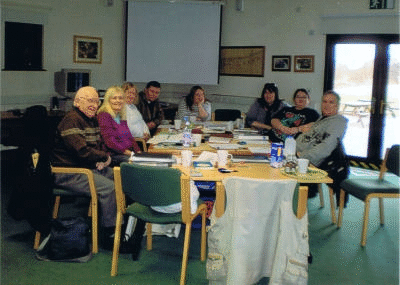 These photographs are showing the group together and also a talk given by Lord Atherton in relation to how dowsing and Homeopathic work together.
Monthly Workshop and Meetings
Peter runs a local group called "Global Dowsers North Wales Group" which was affiliated to the BSD and holds monthly workshop meetings for beginners to professional level - this is a seven hour course which is held at the moment meetings are held at Rhydymwyn Valley Works, Rhydymwyn, Mold North Wales. They are held every first Saturday in the month and you are notified by email the date of the next meeting or any changes to the date of the meetings and what is happening at each meeting. Coffee, tea and biscuits are provided. We would appreicate a contribution of £10 per person to cover costs such as the teaching, running of the website Global Dowers North Wales Group, insurance cover, plus refreshments. Start time 9.30am finish at 4.30pm for the workshop. New members welcome, please contact Peter by email or phone if you wish to become a member of the Global Dowsers North Wales Group. There is no joining fee just come and enjoy.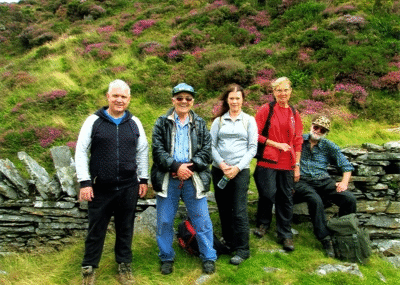 These photographs are showing a group visit to St Davids Gold Mine in Dolgellau when the students doing the practical side of dowsing locating mineral deposits also showing a visit to Clive thompson in Anglsey showing the students how the use the Double V Rod that he invented for GROUNDWATER SOURCES
8 Hour Day Teaching Courses
Peter also holds group tuition and one to one tuition covering water, oil and gas, gold, and geopathic stress (including dealing with sick buildings). These courses can be from one to four day courses, depending on the student's ability and experience. Coffee, tea and biscuits are provided To find out more information, including costs please ring or e mail Peter.
For accommodation please go onto booking.com or laterooms.com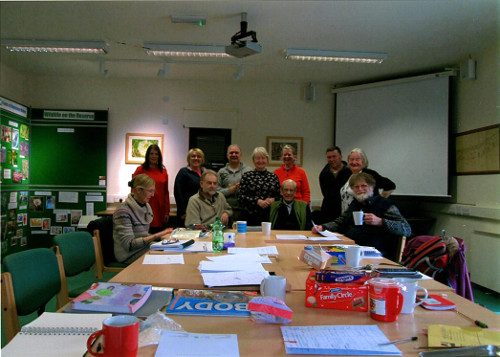 Please contact Peter for details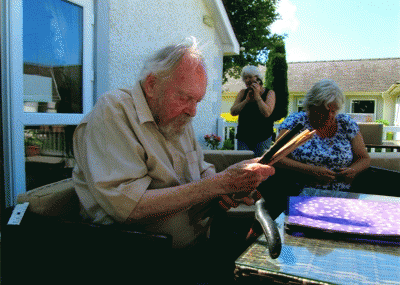 Some of my dowsing group visited Clive Thompson who is a well respected water dowser in North Wales who showed us some different ways of dowsing for water. I spoke to his son recently who tells me that Clive is now the grand old age of 97 years and still cheerful in his own way. Please take a look at the photographs above.
This is the reference I received from a student in 2008 which you might be interested in reading: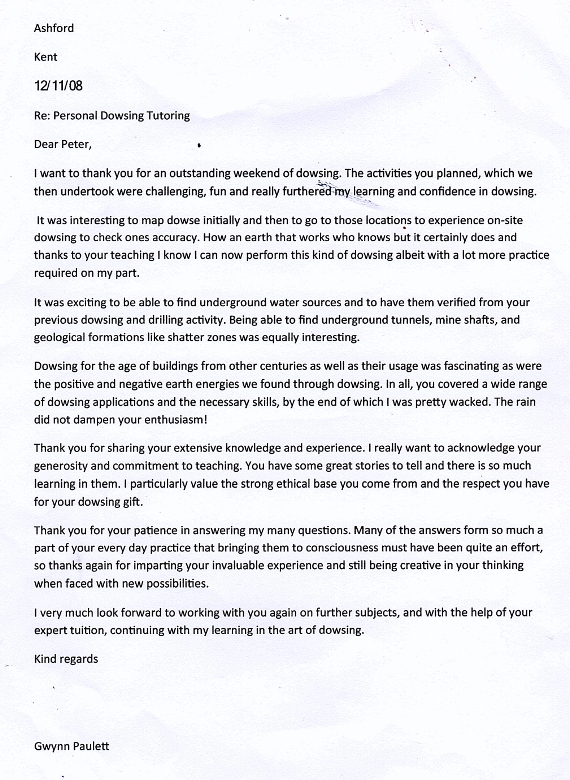 Peter teaches dowsing from beginner level through to professional level, and is available for one-to-one teaching. He is on the BSD professional register for water, natural resources (minerals/gold, oil and gas), concealed site features, archaeology and site energies (healing of sick building, geopathic stress, and map dowsing.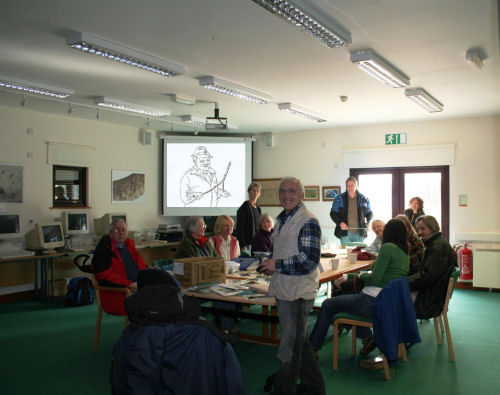 The dowsing courses take place at the Rhydymwyn Valley Site Visitors Centre.
These are the certificates presented when you have proven you can find water and/or locate and change geopathic stress. This can also be done by map dowsing so that the energy is changed from bad to good remotely. As I am qualified in all these fields I can give out my own certificates free to the students who prove to me their abilities in the fields of the various dowsing courses which then will also give clients confidence in their abilities. Please look at the sample certificates available.

The certificates are A4 size, buff coloured and presented in a frame.
Please phone or e-mail to book onto a dowsing course with Peter.

Rhydymwyn Valley Site Visitors Centre is easily accessible off Nant Alyn Road.
Rhydymwyn Valley Site, Nant Alyn Road, CH7 5HQ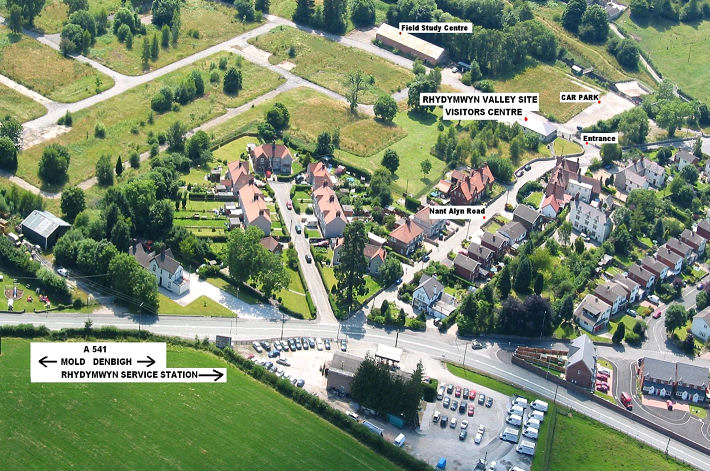 Peter contributed material to 'The Book of English Magic'.

Darkly glittery package for this survey of mysterious England, the country with the richest history of magical lore and practice in the world' (Bookseller )
'An astonishing and entertaining book'
(Northern Echo )
'Well-read, tolerant, perceptive and reader-friendly'
(John Billingsley, Northern Earth )